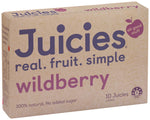 Juicies & the Health Star Rating System
When Juicies packaging was updated in 2016, we adopted the new Health Star Rating system to replace the Heart Foundation Tick.
Most Juicies products sold in New Zealand supermarkets now feature the health star rating - and are rated 5 stars.  But what does that actually mean?
About the Health Star Rating System
The Health Star Rating system is an independent, voluntary front of pack labelling system designed to help consumers make healthier food choices.  It's backed by the New Zealand and Australian governments and developed in collaboration with public health experts, industry and consumer representatives.
The system takes into account four aspects of a food associated with increased risk factors of chronic diseases - energy, saturated fat, sodium and total sugars, plus certain 'beneficial' aspects of a food such as fruit and vegetable content and in some instances, dietary fibre and protein content. Taking these components into account, points are allocated based on the nutritional composition of 100g or 100ml - following the units used in the nutrition information panel of a food.
The Health Star Rating is based on both the calculation AND the food product category to ensure foods achieve appropriate star ratings consistent with the dietary guidelines.  Most Juicies are rated under the beverages, non-dairy category, however Juicies tubes fall under the non-core foods, non-dairy category.
The system is designed to help consumers choose between similar foods at the point of purchase, so it works best for choices between foods that might usually be seen as alternative choices (e.g frozen desserts) rather than between categories (e.g chips and bread).
More Information
To see more about the how the Health Star Rating system works, see
http://www.foodsafety.govt.nz/industry/general/labelling-composition/health-star-rating/
There's also a good article here on the Consumer website that addresses some of the frequently asked questions and criticisms of the scheme.
See also
Is Juicies Packaging Recyclable?