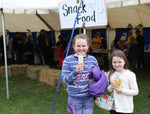 Five Ways to use Juicies for Fundraising
There are loads of different ways schools and clubs can use Juicies to fundraise – from selling at events such as school galas to taking pre-orders for 10-packs.  Here are some of the innovative ways schools, clubs and kindergartens are filling their coffers by selling Juicies.
Sell Juicies at Family-Friendly Events
Pinegrove Kindergarten is located in Brightwater, Tasman.  The kindergarten has used Juicies and Moosies Milk Freeze for two fundraisers this year – the first was selling Juicies at a Teddy Bear's Picnic organised by the local council and the second was selling Juicies and Moosies at the kindy's annual trike-a-thon. 
Head Teacher Leanne Rodman says "The Juicies were a great hit at the Teddy Bear's Picnic and we sold 336!  It was a great fundraiser for us. The Juicies and Moosies were the perfect cool treat for the children as they had a break from cycling at the trike-a-thon, which was a two hour event.  There was a constant line of people young and old queuing up to buy either a Juicie or a Moosie! There were many positive comments from the parents - the most common one being that the Juicies are made of all natural ingredients without any added sugar. We raised nearly $1,000 at the trike-a-thon this year which was great."
Sell Juicies with a Sausage Sizzle
Janaya Hafoka is a student at Mount Maunganui College.  Janaya says "We use Juicies to fundraise for our own special events. There's nothing better than going out for lunch and there's a sausage sizzle and Juicies sale happening.  It's good to get students to work as a team as well."
Perfect Disco Treats
Tinaka Pawa is a year 7 & 8 teacher at Oturu School in the Far North, Kaitaia.  Tinaka says "we have a roll of 140 students and each term, my class hosts a disco. We sell Juicies because they are easy to prepare, affordable and the kids need to keep cool while dancing. (They work up a bit of a sweat on the dance floor!).  We buy Juicies from our local and only supermarket for about $5.00 for a box of 10 and sell them for $1 each - so 100% profit. Woohoo for class fundraising!  Juicies always sell out, so best to freeze by the box load. We sell about 150 in 2 hours."
Lunchtime Orders
Hamilton West Primary Teacher aide Rachel Patterson says her school has also used Juicies on several occasions to raise money. "Last summer I'd go around the junior classes and take orders then deliver them to each class in time for lunch.  Also, when we've had galas or fun events like Christmas-on-the-field (an evening of singing and entertainment for school families), we'd walk around with boxes selling them individually. They sell themselves. Easy peasy!"
Juicies Fundraiser 10-Packs - Great for Group Fundraising
Manawatu Gymsports in Palmerston North has an ambitious fundraising target of $90,000 for a new sprung floor.  Club Manager Kim Fenn says the club recently ran a Juicies fundraiser using Juicies Fundraiser 10-packs.
"It was easy and we made $1,200 out of it which was a good start.  People liked it because it was healthy.  The lady we ordered from was great to deal with and made it all easy. For us, it was brilliant and we will look at doing another one in summer."
Schools and other organisations can order Juicies and Moosies for fundraising through Futurefoods distributors or by contacting Tasman Bay Food Group on 03 543 5340, email sales@tasmanbay.co.nz or order direct on our website www.juicies.co.nz
Do you have a story of your Juicies fundraising that you'd like to share?  If so, please get in touch.
See Also
How to Run a Successful Juicies Event Fundraiser