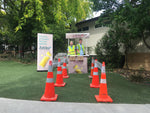 Juicies used in Successful School Project
Pupils from Nelson College found a use for Juicies Event Packs that wasn't fundraising, they used them as part of their commerce class.
Business studies are often learnt just on paper but this class earned their education by learning how to run a real business.
Entrepreneurial groups were formed and the students shown in the photos were the ones with the smarts to choose to sell Juicies as their project.
Purchasing, logistics, marketing including running their social media, sales, retail, legality, administration and time management were all key parts in making their project a success. The group started by purchasing one Event Pack of 160 Juicies  and were quickly placing more orders and selling at other schools as demand grew.
Their project has come to an end now and we are now awaiting their results but we already classify this as a success.
From Juicies to the pupils at Nelson College who ran this project, congratulations and well done, we appreciate being part of your pathway to learning.
----
If your class runs a similar project please let us know by emailing info@tasmanbay.co.nz we love to share all successes.
Also read: What Broadgreen School did when their canteen closed.