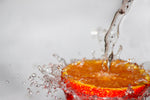 Fight the Cold with Juicies
As the temperature drops many of us begin to feel under the weather. To boost your chances of getting rid of those cold symptoms earlier it's a good idea to regularly be getting your dose of Vitamin C to reduce the severity and duration of a cold.
Vitamin C is an antioxidant that assists in the formation of collagen and helps the body absorb iron to help keep the body strong and healthy.
The duration of a cold can be reduced in adults up to 8%, so they would suffer from a cold for 11 days rather than 12 days. Those who get the biggest benefit is children who have a regular and high intake of Vitamin C, the cold symptoms can reduce by 14% meaning the average child who suffers about 28 days of cold illness a year, would only have 24 days of cold symptoms because of their Vitamin C intake. Those 4 days can make all the difference when you are feeling unwell!
Vitamin C is added in all original Juicies flavours and naturally occurs in the fruits. Juicies are 100% natural, contain no added sugar and have a 5-star health rating. You can buy in supermarkets or in bulk by purchasing an Event Pack to boost your daily Vitamin C intake and to ease a sore throat.
Here is what some of our Facebook fans have to say:

"I am currently recovering from some kind of stomach bug. When it was at its worst and I didn't want to eat or drink anything Juicies were the only thing I could keep down. Nibbling and sucking away at a small hole in the corner got me through. It was so good I'm contemplating having a box in the freezer permanently for emergencies!" - Aaron Chang

"We have had the flu for 3 weeks and these have been a lifesaver! So good at alleviating those sore throats and has given me some respite from all my infernal coughing. Love the Lemonade (oh so much!) and Orange. Today I found a wee holder in a pack -- that beats the paper towels we've been using ... now to go find more cause I ain't sharing. 
" - Lisa Piggott-Ford
"Juicies are great when the kids have a sore throat. I had a few in the freezer and they were perfect to give her because she couldn't eat at the time. Love them." - Tania Wastney
We love being able to provide you with Juicies to help boost your winter wellness.