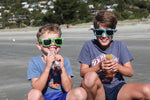 "How do you open Juicies?" It is a rare question we receive but one that can baffle our newest customers who simply want to get into the delicious juicy contents!
There is no right or wrong way to open Juicies but here are the most common methods to open your Juicies packet:
- If your teeth are strong enough tear away just the corner of your Juicie and suck the contents through the hole. This is the favourite method for those that want the longer lasting Juicie.
- Cut with scissors along the top, or just the corner, you can even cut your Juicie in half if you are sharing. Make sure you measure each half and select the larger one before your sibling grabs it!
Remember good things come in awkward parcels and we believe any inventive no.8 wire method of opening Juicies could do the trick.
Share your way of opening Juicies by posting to our @lovejuicies pages on Facebook and Instagram.