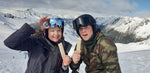 Bring learning into the school canteen
Image: Mr T excited about the lessons Juicies can teach to set children up for their future.
It was costing the school every month to cover staff wages and the profits from sales were not covering the overheads. Rightly so, the board wanted to spend the limited school budget on learning activities, not propping up a lunch service they weren't even sure that students valued.
Mr T spotted an opportunity.
With a pre-teaching background in retail and sales Mr T could see that a student run canteen could be an exceptional real-life learning experience. The education for students would be fantastic with students taking up roles similar to a real business such as CEO, marketer, accountant, procurement, human resources, operations, customer service, sales, stock control, food safety & hygiene, health & safety, product development. The learning would be across the curriculum and meet the government goals of improving maths, reading and writing in a way that engages students and gets them thinking about career opportunities.
Small business is the backbone of our economy and there are 487,602 small businesses in New Zealand. This is 97% of all enterprises. 29% of students will work in small business when they are adults. Therefore, the better prepared young adults are when they leave school, the more successful New Zealand SME's will be.
After the approval from the school Principal, Mr T and his colleague came up with a way their two classes could open the canteen for one day a week. They wanted to keep it simple (as teaching is already busy enough) and a learning experience but also wanted to make the canteen self-supporting financially and even make a profit!
There were lots of challenges in setting up and running this real-life business experience. Not everything went right, but lots did and everyone involved comes out being more acquainted with about what it takes to be involved in a small business.
Mr T's tips for running a successful student-run school canteen:
Keep it simple – Make your menu small and stick to products you know will sell (like Juicies & Moosies), heat & eat food and one product that the students make from scratch (garlic bread is great).
Start with one day a week – Don't try and overdo it. Spend the rest of the week involving the students in planning. As teachers know, planning is key to success!
Guide the students in setting up procedures – Every procedure from how to make a product to what to do with leftovers is important. Procedures help reduce waste & costs and mean students can run the canteen without too much teacher support.
Keep inventory low – Only order as much as you need for the week.
Take pre-paid orders – Make it easy to produce the exact amount of food you need and deliver to the classrooms. This reduces pressure on the canteens timing and around cash handling. Unheated items such as Juicies and drinks can be sold from the canteen.
Have some important 'teacher' checks in place such as cash, profit and waste. School administrators are great at helping with this. Report the results back to students.
Celebrate success and work together on continuous improvement. A celebration morning tea as the profits are given to the Principal is motivating and solving a problem is a great success.
Mr T and his students still have plenty to learn about running a small business but the outcomes in terms of learning, problem-solving and teamwork are fantastic.
Of course, it is an initiative that involves the whole school and the students really appreciate being able to have the choice to buy their lunch or Juicies & Moosies once a week.
If you are interested in operating a student-run canteen at your school please let us know at info@tasmanbay.co.nz we are happy to provide any support or advice we can.
Also read: Nelson Colleges success with Juicies as part of Business Studies