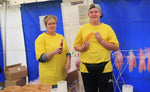 How to Get More Hands on Deck for Fundraising
If you're a parent with school-aged children, then sooner or later, you'll be involved with some sort of fundraising. It's part and parcel of being a parent. However, not everyone will want to get involved in the same way.
When organising a fundraiser, make sure you design it so that parents can get involved in a way that works for them. Not everyone wants to be on the organising committee, but most people are happy to help if you give them a bite-sized, specific task, with a beginning and an end.
It's also important that you approach people one-on-one when asking for help. A note in the newsletter will attract your hard-core volunteers, but most people will stand back and wait to be asked personally. It's not that they don't want to get involved; it's more that they assume you've got it under control. Remember, not everyone is oozing confidence, so you need to make it easy and enjoyable for them to get involved.
Recruiting people to help with your fundraising activities can feel like hard work, but if done well, it will set you up for massive success. Not only do many hands make light work, many hands make many connections, and in turn, make more money! 
This guest blog post was supplied by Kerri Tilby-Price from Exult. For more fundraising tips, tricks and advice, check out www.exult.co.nz
See also
Five ways to use Juicies for Fundraising
How to run a successful Juicies event fundraiser