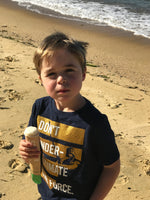 Coconut Juicies - Simple is Good
Sweet; check. Creamy; check. Delicious; check. There's not a lot more we can say about our Coconut Juicies, because like our classic Juicies, we've kept them pretty simple.
But, as far as the kids are concerned, sweet, creamy, and delicious is all they need to know.
Available in Pineapple, Mango, and Strawberry flavours, Coconut Juicies are a creamier take on the ice blocks Kiwi kids have been enjoying for more than 25 years.
Aside from their delicious flavour, kids (and grown-ups) will love them for their easy-to-eat sorbet-like texture, and the pop-up tubes, which are easy to open and hold.
Coconut Juicies are made with 100% natural ingredients including freshly pressed Nelson apples, fresh fruit, and coconut cream.
They are both gluten and dairy-free, making them an ideal treat to have in the freezer for those hot summer days.
Like the classic Juicies, you'll find Coconut Juicies in multipacks in your supermarket freezer, or individually at school canteens and convenience stores.
See also