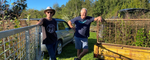 Giving back to our environment
We are on a mission to reduce our carbon. For us its about continuous improvement in our processes. We also wanted to offset some of our carbon, but we wanted to do this in our own way.
We firmly believe in doing our bit to help restore and enhance native bush and birdlife, we had a bit of space in our paddock, so we decided to set up a nursery and grow native seedlings. Brian, our founder, now spends his time toiling away (his time all voluntary!) producing thousands of plants that are then gifted to native bush regeneration projects. We support Brian and his friends by providing all the space, tools, potting mix, water and seeds they needs to carry out this work.
Of course on those hot planting days we also supply the thirst quenching Juicies!
One of these projects is in Appleby Hills, a riparian project with the intention of bringing birdlife and clear waterways through regenerating almost two-hectares of native bush. It will be a special place for the local community. Beginning in 2019, Brian has grown natives including nikau, kowhai, lancewood and totara from seed and coprosma from cuttings. The plants are generally fast growing and are planted out after about a year.
Brian's favourite plants are kowhai & harakeke because of the way native birds devour their nectar. "I love to do this because I believe every New Zealander should be able to experience our special birdsong. I can think of nothing better than putting effort into making our environment better for future generations".
If you have a project that requires native bush seedlings, or would like to contribute you time, please contact info@tasmanbay.co.nz.