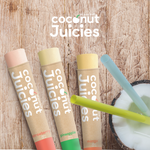 Say Aloha to Coconut Juicies...
We've welcomed a brand new product to the Juicies family; one which combines our classic fruity flavours with the creaminess of fresh coconut.
Available in three different flavours - Strawberry, Pineapple and Mango, Coconut Juicies are based on the same Juicies philosophy of simple, 100% natural ingredients.
Freshly-pressed Nelson apples are blended with natural fruits, berries, creamy coconut, and very little else.
Both gluten and dairy-free Coconut Juices are an ideal treat for the kids, and deliver excellent value.  
Juicies have been a staple in New Zealand schools since 1990.  They were originally developed as a lunchbox drink, however, schoolchildren had other ideas and started the trend of eating them frozen.  Today Tasman Bay Food Group makes a range of Juicies products sold in 12 different countries - from Original Juicies to Juicies Tubes and now Coconut Juicies.
The easy-to-open pop-up tubes were developed for customers in export markets - they're easier to open and hold than the film-wrapped Original Juicies and have a softer, more sorbet-like texture.
Coconut Juicies are the next step in the evolution of Juicies. They will be available in 4-packs from supermarket freezers at New World and Pak'n'Save supermarkets in New Zealand from mid-October 2017. They are also available for individual sale in some school canteens and convenience stores.
See also
Coconut Juicies - Simple is Good
Are Juicies & Moosies Gluten-Free?