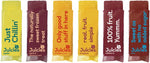 Tips on Running an Awesome Sausage Sizzle (with Juicies!)
An oldie but a goodie, sausage sizzles are a tried and true method of fundraising.  Here are a few tips on how to run an effective sausage sizzle and maximise your profits.
THE BASICS
Find a great location and book it early – many stores such as The Warehouse, Bunnings, Mitre 10 Mega and some supermarkets offer sausage sizzle spots and even provide BBQs. Events such as school galas are also perfect.  Make sure you book early as many of the stores have long waiting lists.
Look at what other products you can sell alongside sausages to increase profits. Juicies are perfect for this, so are cold drinks.  (However if you have booked a store site, make sure you check with the store manager first about any restrictions on what else you can sell).
Get some good information on the likely number of attendees by talking to event organisers or the store managers about how many people you can expect. You don't want to run out too early or over cater.
IN THE LEAD-UP
Many hands make light work – get plenty of volunteers on board. If you're struggling, see  'How to get more hands on deck for fundraising'.
Consider making your sausage sizzle a little healthier – especially if you are running a school or kids' event. Ideas could include swapping out white bread for wholemeal, using an apple based tomato sauce like Speedway Sauce, ditching the margarine, and offering coleslaw with each sausage.
Select your sausage – consider your audience and their tastes when selecting your sausage. Will a budget brand pre-cooked sausage do, or would they prefer something more upmarket?  Factor this into your pricing.  The natural casing used on some premium sausage brands can be more likely to explode. A synthetic casing can be more durable, allowing for much higher heat and a bit more tong probing while on the barbecue.
Source your supplies – it pays to shop around and some companies offer special deals for schools or fundraising groups. (Primary schools should check out Hellers Sausages 4 Schools programme).  If you have booked a site at a store, some will offer vouchers.  See the checklist and suggested starting stock below.
Advance promotion – don't forget to let your supporters know about the event in advance. Put it in the newsletter, put up some flyers, promote it on social media, email your supporters, create an event on Facebook. These are all free or low-cost ways you can promote your event.
Prep as much as you can prior – ways to save time include buying pre-cut onions, chopping, and possibly cooking the onions the night prior (put them into sealed plastic containers). If using coleslaw, buy it pre-made or make it the night before.  You could also butter the bread and put it back into bread bags.
ON THE DAY
Set up some clear signage – as well as advertising the cost of your product and what you have available, tell people who and what you are fundraising for. People are more likely to support a good cause. 
Have an experienced BBQ chef on the BBQ – while you don't need to be a gourmet chef to whip up a snarler, it helps if you have someone who doesn't turn food to charcoal, and who knows how to work the BBQ!
Have specific roles for helpers. This will speed up the process and keep things running smoothly.  For a large event, possible roles could include:
Someone in charge of supplies – they can also be a runner to go and get more supplies if needed
Someone to cook the sausages
Someone to cook the onions (if not already pre-cooked)
Someone to butter the bread and serve (if not already buttered)
Someone to take the orders and collecting the $$
Someone in charge of PR – attracting customers and talking about the club
Get the kids out front - While you might not want the kids on the tools, customers love to support children and young people – so get them out front and smiling.
Get your pricing right – do your research on pricing. You need to make it worth your while but not scare people away.  If you're running a sausage sizzle outside a store, speak to the local store manager.  Anything below $2 is probably too little.
Suggested Starting Stock (Food only) for 200
2 x 3kg bags of onions (cut onions finely and pre-cook them the night before)
200-plus pre-cooked sausages
8 to 10 loaves of bread
1 5 litre bottle of Tomato Sauce
Mustard
Event pack of Juicies (160 Juicies)
Coleslaw (if going for a 'healthier style' sausage sizzle)
OTHER ITEMS TO BRING
The barbecue and spare gas bottle (if not already provided)
A large trestle table (if not already provided)
A gazebo (if not already provided)
Cutlery for buttering bread and chopping onions if you haven't done this prior
Cash float with plenty of change and a cash box or ice-cream container to keep it in – around $100
Disposable gloves
Barbecue utensils
Serviettes
Hand sanitising wipes or gels
Chilly bins with plenty of ice to keep meat and Juicies/drinks cool (separately of course!)
Rubbish bags
Water/drinks for the volunteers
Signage for your product/pricing and what you're raising money for
Pair of scissors to open the Juicies
Dish cloth to wipe up any spills