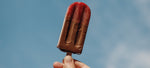 That's a wrap. It's home compostable!
Dr. Feelgood Frozen Pops are now sporting fancy home compostable wrap*.
We have been working with our expert packaging partners to come up with a solution to keep Dr. Feelgood Frozen Pops top quality for longer. We do love our cute cardboard pop boxes, but we found that air could easily get into them, leading to the quality deteriorating quickly. We want our fantabulous flavours to reach everyone in perfect condition, whether you devour them straight away or forget them in the freezer. Our environmentally friendly new wrap delivers just that. 
No plastic here! Dr. Feelgood wrap is derived from a clever combination of sustainably managed wood pulp and GM-free corn sources and has been certified to Australian home compostable standards (OK Compost Home Australian home composting standard AS5810).
So, just as you always have, just chuck the wrapper in your compost with your vege scraps and let nature do the rest. Good as!
*Dr. Feelgood wrap is compostable when disposed of in a home or industrial composting environment containing heat, water, oxygen, soil and micro-organisms.