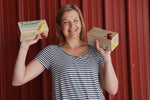 Has Juicies helped you raise funds for a cause close to your heart? If so Juicies would love to hear from you to highlight the good work you and your peers are doing.
Share your story with Juicies and inspire others to follow your lead to raise the funds to better their school, club, group, community, project and so much more, just like you have.
To share your Juicies story email: sales@tasmanbay.co.nz include what you were raising funds for, how Juicies helped you achieve your goal and any media files.
We look forward to hearing from you.
If you haven't yet used Juicies to help fundraise for your cause then check out the options we have with our shop.