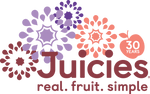 Juicies Celebrates 30 Years
Juicies the beloved school canteen favourite is turning 30. What started as a juice pouch and was adapted into a frozen juice bar by some crafty students now is the go-to snack 10,000,000 times in New Zealand alone with many international fans now discovering the healthier yet tasty Juicies too.
The original pouch style Juicies are still available alongside an innovative range of Juicies in tube packaging and others with a creamy coconut base.
Tasman Bay Food Co has stuck to its values of Better. Healthier. Real. this has allowed them to maintain their strong position in the market over the past 30 years. The company continues to use locally sourced apples as the base of all its Juicies.
The topic of sustainability and food wastage is popular and necessary in 2020 and Juicies are already ahead of the game by providing a product that uses fruit that would otherwise go to waste and making changes to the recyclability of the packaging it makes Juicies a sustainable product for now and into the future.
From pressing the apples to leaving the site as a sellable Juicie all the work is completed on the purpose-built factory among the vineyards of Brightwater in the Nelson Tasman region. The family-run business employees, 50 full-time employees, across the juice and dairy factory, bakery, warehouse, and office staff and contracts to staff during busier periods.
Juicies fans now span generations from those who were the first to taste Juicies in their school canteens are now the ones buying it for their own children who enjoy the product equally as much.
Juicies are 100% natural with no added sugar and are available in most supermarkets and online at www.juicies.co.nz
Join in on the festivities of Juicies 30 Year Celebration by liking their Facebook Page 'I Love Juicies & Moosies' and sharing your 'Juiciest Story' to be in to win.