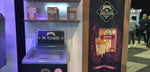 Dr. Feelgood Frozen Pops highlighted for Innovation
Dr. Feelgood Frozen Pops were one of a handful of brands to be included in the 'Innovation Zone' at the 2021 Foodstuffs Expo.
Tasman Bay Food Co. and Dr. Feelgood Frozen Pops innovative packaging design meet the sustainability and corporate social responsibility initiatives Foodstuffs were looking to highlight and support.
By being part of the Innovation Zone, we were able to share our story and introduce visitors to our 'no plastic' packaging, a first in the category!